The Grand National 2018


What if there was a simple system for finding the Grand National 2018 winner?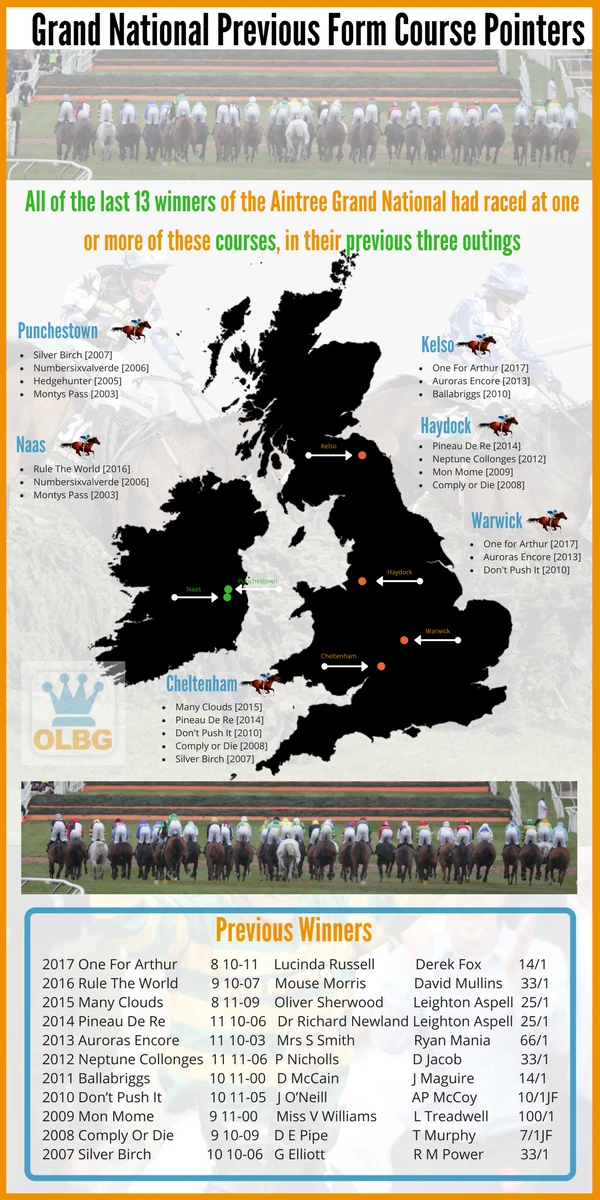 Well, we may not have found a way to help you find a dead cert winner - anything can happen in the grand national after all - but I have found an interesting little bit of information concerning four race tracks in previous winners recent form, that makes for interesting reading.
Below, we have details of those courses and their significance, with past winners of the Grand National, with a course guide, and a breakdown of each of the last ten winners too.
Also, we have some tips and pointers for the Grand National Runners 2018

What time is the Grand National 2018

The Grand National time is 5:15pm at Aintree on Saturday 14th April. The race used to be earlier in the day but in recent years has been moved to this later time. This has been welcomed by some viewers, although has also been seen by some racegoers as a way to keep fans at the course and thus spending more money - Whichever side of the argument you stand, it looks like this time will be a permanent fixture for the foreseeable future.

Grand National Distance

The race is run over 4miles, 2 furlongs and 11 yards. It is the longest National Hunt race distance in the UK calendar

How many Fences are there in the Grand National

A total of 30 fences will need to be jumped to complete the course. There are 16 fences per lap with the first 14 fences jumped twice. Some of these fences are so famous in their own right they even have their own wikipedia pages, such as Bechers brook, The Chair and Canal Turn
Neptune Collonges jumps the Water Jump at the Grand National
Grand National Prize money amount

There is a total of £1m in prize money with the winner taking £500,000

Grand National Runners

The race is open to horses aged 7 or over. They must have started at least one chase in the current season, and placed at least 4th in any chase over a distance of 2 miles 7 furlongs and 11 yards. They should also have been allotted a handicap mark of at least 125 subsequent to these outings

Grand National at Gatwick Airport?

Correct, the Grand National was run on the land that is now Gatwick airport for three years during the First World War
SIMPLE GRAND NATIONAL TRENDS SHORTLISTING SYSTEM Part 1
Check for a previous run in the last 3 at these courses
Cheltenham
Kelso
Warwick
Haydock
Naas
Punchestown
A previous run in the Grand national itself can be a positive too.
This shortlisting tactic will not narrow the field to just 2 or three runners, but given that each of the last 13 winners had run at least once at one of these tracks in its previous three outings, you can be pretty confident that you will have the winner in your shortlist.
If we take
Naas and Punchestown
out of the equation for now, there are four race tracks, at which 10 of the last 11 winners of the Grand National at Aintree had run in their previous three outings
Furthermore, 3 of the last 4 winners of the race had run at two of these courses in the three runs prior to turning up at Aintree
2017 One For Arthur had run at both Warwick and Kelso in his three previous runs
2015 Many Clouds had run twice at Cheltenham before winning the Grand National
2013 Auroras Encore had run at Kelso and Warwick
......and the winner in 2010, had made the last three appearances at 2 of the four tracks in the previous three races
2010 Don't Push It's previous three outings had come at Cheltenham, Warwick, Cheltenham!
SIMPLE GRAND NATIONAL TRENDS SHORTLISTING SYSTEM Part 2
Weight Carried - Stick to the Under 11st
For so many years we were happy to discount any horse having to carry more than 11st in the Grand national, that was of course, until changes were made to the maximum weight allowed to be carried which squeezed up the handicap a bit, and trends followers felt the force when the next four winners all carried AT LEAST 11st to victory
However, if we look at the last five years since the fences have been eased, we can see the trend has reversed once again
2017 - The winner and 9 of the first 10 home carried less than 11st - Blaklion 11-1 4th was the exception
2016 - The winner and 12 of the next 13 home carried less than 11st - Gilgamboa 11-1 4th
2015 - Many Clouds did something ridiculous but 9 of the next 9 home carried below 11st
2014 - The Winner and 14 of the next 15 finishers carried less than 11st - Rocky Creek 11-5 was 5th
2013 - The Winner and 9 of the next 10 home were below 11st - Teaforthree 11-3 finished 3rd
Rounding that little lot up, there are the first 54 finishers in the last 5 Grand Nationals, of which no more than 1 each year found a place in the 5 home
We have a few runners at the top of the handicap on very good marks indeed, but remember what Many Clouds did was by far the best weight-carrying performance for many a year.
SIMPLE GRAND NATIONAL TRENDS SHORTLISTING SYSTEM Part 3
The final part of the shortlisting system is to look for stamina and form - AAAARRGGHH! Form I hear you cry, well don't worry, we are looking for just two things,
Must have finished in the first five in one of the listed below top class chases over at least 3m2f or the Grand national itself and...
Finished in a place in a chase over 3m4f at some point in their career.
With no winner under 8 for 75 years, or Older than 12 for even longer, we look at the 8-12 age range only
Of course, most of those who completed the first part would have a high chance of having completed the second part if finishing in the places
Scottish Grand National at Ayr
Hennessey Gold Cup - [Now the Ladbrokes trophy] at Newbury
Becher Chase at Aintree
Welsh Grand National at Chepstow
Cheltenham Gold Cup
Irish Grand National at Fairyhouse
GRAND NATIONAL TIPS SHORTLIST
This is the final selection groups from the shortlisting, scroll to the bottom of the page for runner by runner analysis, and final Grand National Tips
Please be aware some of these selections may not get through the final declaration stages and may not run. This list will be updated both on Thursday 12th April when we have the final declarations
1st Choices
2nd Choices

Betfair currently
have
the best price
for
Willie Mullins ante post favourite TOTAL RECALL
who ran at Cheltenham last time out, albeit falling in the Gold Cup
IRISH TRAINED GRAND NATIONAL WINNERS PREVIOUS FORM
Silver Birch, Grand National Winner for Gordon Elliot in 2007
If we consider also Naas and Punchestown, it adds in the 2016 winner Rule the World, includes, SIlver Birch from 2007, as well as Numbersixvalverde and Hedgehunter in the two previous years. If we look at the last 15 years, only Amberleigh House in 2004 had not run at any of these, having had his last three outings at Doncaster, Wetherby and Aintree.
How Similar are these courses to the Grand National Course at Aintree?
So, I have provided the list of courses that should be considered in recent form of the Grand National runners, but what are these tracks like? Are there significant similarities, between them and Aintree? Let's take a look at each in detail..
Each are left-handed, so that's a start, but Cheltenham Warwick and Kelso are undulating courses as opposed to the flat nature of the Grand National course. Experience over big stiff fences like Haydock or Cheltenham can be a plus

Grand National Course:
2m2f
flat
course and
long run in
with a dogleg elbow.
A flat track with the stiffest fences in the UK
Left Handed
Galloping
Similar Courses:
There is nothing quite like the Grand National Course!

Cheltenham has Two Courses the Old and New, but the characteristics are the same
1m4f with a run in of 350y.
Undulating track with stiff fences
Left Handed
Uphill Run-in
Similar Courses:
Again, there is little like Cheltenham but those fences will stand you in good stead

Flat track and big fences
Left Handed
Galloping
Similar Courses:
Some similarities with Aintree in being left-handed flat and biggish fences

Undulating course with tight bends
Left-handed
Similar Courses:
Catterick, Fakenham, Uttoxeter, Warwick

Undulating course with tight bends
Left-handed
Similar Courses:
Catterick, Fakenham, Kelso, Uttoxeter
Grand National Facts
Biggest Priced Winners of the Grand National
There have been 5 winners of the Grand National at odds of 100/1 including Foinavon who has one of the fences named after him. Punters who like to back a 100/1 chance would have had good returns in 1928 and 29!
1928 Tipperary Tim
1929 Gregalach
1947 Caughoo
1967 Foinavon
2009 Mon Mome
Largest Number of Grand National Runners
These days the race has a limit to the number of runners that can participate for safety reasons, but in 1929 [The year of Gregalach's victory at 100/1], there were no fewer than 66 horses running the race
Most Finishers of a Grand National
Generally only around half the runners at most will cross the finish line. not all will fall, unseat their jockey or be brought down, many will be pulled up and take no further part once a realistic chance of finding a place in the race has gone. In 1984 of the forty runners to begin the race, 23 crossed the finish line
Least Number of Finishers
Only 2 runners completed the course in the 1928 running of the race. As mentioned above, the winner, Tipperary Tim was one of the 100/1 winners beating home Billy Barton at 33/1. In total 43 runners started the race but after a pile up at the Canal Turn, just 7 runners were left in the race
Most Rides in the Grand National without a Winner for a Jockey
At present, Richard Johnson has ridden in 20 Grand nationals and has yet to ride the winner. Those 20 rides also contribute to the fact he has ridden in the race more times than any other jockey with the exception of Sir AP McCoy who also rode 20 times before retirement.

The Past 10 Winners of the Grand National in Detail

2017: One For Arthur 14/1
Last three courses - Warwick, Aintree [2016 Grand National], Kelso
Last race - Won a Class 1 handicap Chase at Warwick
4th Female trained Winner of the Grand National
Jockey Derek Fox was having his first ever ride in the race

2016: Rule The World 33/1
Last three courses - Naas, Gowran Park, Leopardstown
Last race - 4th in a Novice Chase at Naas in heavy ground
Had never won a chase event before
Jockey David Mullins won the race in his first ride, and was the youngest since 1938

2015: Many Clouds
Last three courses - Cheltenham, Cheltenham, Newbury
Last race - 6th in the Cheltenham Gold Cup
Trevor Hemmings became one of the only owners to have three Grand National Winners
Jockey Leighton Aspell became the first to ride back to back winners since 1953/54 when Bryan Marshall completed the feat
11st 9lbs was the highest winning weight since red Rum in 1974

2014 - Pineau De Re 25/1
Last three courses -

Cheltenham

, Exeter,

Haydock

Last race - 3rd in the Pertemps Network final [hurdles] at the Cheltenham festival
Trainer - First ever runner in the race for Dr Richard Newland
Jockey Leighton Aspell first win in the race

2013: Auroras Encore 66/1
Last three courses -

Kelso

, Doncaster,

Warwick

Last race - 5th in a listed chase at Kelso
Trainer - Sue Smith - First Yorkshire trained winner since 1960
Jockey Ryan Mania was having his first ride in the race, and the first Scot to ride the Grand National Winner since 1896

2012: Neptune Collonges 33/1
Last three courses -

Haydock

, Sandown, Ascot
Last race - 2nd in the Grand National trial at Haydock
Gold Cup winner Syncronised died in the race along with According to Pete and to date are the last to befall the fate.
First grey to win since 1961

2011: Ballabriggs 14/1
Last three courses - Kelso,

Ayr, Wincanton

Last race - 2nd in a class 2 chase at Kelso
Trainer Donald McCain won the race to emulate his father Ginger
The first time Bechers Brook was only jumped once in the race

2010: Don't Push It 10/1J
Last three courses - Cheltenham, Warwick, Cheltenham
Last race - Pulled Up in the Pertemps Final [hurdle] at Cheltenham festival
Jockey - The first ever win for AP McCoy in his 15th ride in the race

2009: Mon Mome 100/1
Last three courses - Uttoxeter,

Haydock

, Towcester
Last race - 8th in the Midlands Grand National
The 5th winner at odds of 100/1 and the first since Foinavon in 1967
Jockey - Liam Treadwell was having his first ride in the race
Trainer - Venetia Williams became only the 2nd female trainer to win the Grand National

2008: Comply Or Die 7/1J
Last three courses - Newcastle

Haydock, Cheltenham

Last race - Winner of the Eider Handicap Chase
Only the 2nd winner to wear blinkers
Trainer - David Pipe emulated his father Martin in training a Grand National winner
Grand National Runners 2018 | Grand National Odds 2018

Grand National Runners
Grand National Trainers
Grand National Odds
This list comprises of the top runners in the betting as of 6th April 2018 - The final declarations and ultimate lin up will be decided on Thursday 12th April.
Total Recall - Willie Mullins - 11/1
Trained by Willie Mullins, Total Recall's last outing was at Cheltenham in the Gold Cup when falling in the latter stages. 3 wins from four outings since joining Mullins who won this race in 2005 with Hedgehunter, has also had a spin over hurdles this season
Anibale Fly - A J Martin - 11/1
Tony Martin-trained Anibale Fly has been supported in the last few days since Tony Martin announced the JP McManus runner was in rude health. Martin is another former winning trainer of the race with Don't Push It in 2010. Also last seen in the Gold Cup at Cheltenham
Blaklion - Nigel Twiston Davies - 12/1
Leading three out here last season and last seen at Haydock finishing second after winning the becher Chase over these fences in December. 4th in this race last year
Minella Rocco - Jonjo O'Neill - 14/1 NON RUNNER
Looks like he will have to carry top weight to victory. Last twice seen finishing fourth and falling at Leopardstown, but does have a spin over Cheltenham three runs ago, albeit pulled up in a Grade 3 handicap chase in November. Class act but a fair bit on his plate
Tiger Roll - Gordon Elliot - 12/1
Winner of the cross country at Cheltenham in March, to add to an impressive big event roll call which includes the Munster national in October 2016 and the National Hunt Challenge Cup at Cheltenham 2017
The Last Samuri - Kim Bailey - 16/1
Raced twice at Cheltenham since finishing runner-up in the Becher Chase behind Blaklion, his last outing was finishing third in the Cross Country at Cheltenham behind Tiger Roll. 16th in the Grand National 2017
Gold Present - Nicky Henderson - 20/1 NON RUNNER
Pulled up in the Ultima at the Cheltenham Festival he has picked up the Silver Cup Chase at Ascot at Christmas and a Handicap Chase at Newbury since falling in the Grand National last season. The Cheltenham run would suggest he wouldn't want it too soft for a trainer who has yet to land the National.
Seeyouatmidnight - Sandy Thomson - 20/1
Previously victorious over the likes of Blaklion he could manage only third place in the Doom Bar Chase at Newbury on his last outing, but with Kelso and Haydock runs in the bag in the previous two outings, he is not seen often but is not without a chance. Also noted is a third-place finish in the Scottish National 2 years ago
Vicente - Paul Nichols - 25/1 NON RUNNER
A faller last year he went on to win the Scottish national seemingly none the worse for the tumble a couple of weeks earlier. He continued National participation, albeit unseating Sam Twiston Davies in the Welsh national in heavy ground and pulled up latest in the same conditions at Cheltenham in the Ultima - Owned by Trevor Hemmings is reason enough not to discount
Captain Redbeard - Stuart Coultherd -

33/1
Won at Ayr on 10th March beating 6 rivals, but better form was probably shown in the runner up spot behind The Ducthman at Haydock prior to that in the Peter Marsh handicap Chase - 6th in the race last yar
Ucello Conti - Gordon Elliot - 28/1
Previous national experience, finishing 6th in 2016, and unseating last season. Two outings since, a very creditable runner-up to Anibale Gly in the Paddy Power Chase at Leopardstown, and then seen in the Goffs Thyestes at Gowran when pulling up 3 out
Gas Line Boy - Ian Williams - 33/1
a 5th place finish in the race last year and has won over the fences since in the Grand Sefton in December. 3rd in the veterans at Sandown when last seen in January, a 12-year-old now with age [arguably] against him. And no appearance at the Key tracks above
I Just Know - Sue Smith - 33/1
Tends to like to front run, which, can be an advantage in the Grand National, generally staying clear of fallers in midfield. Trainer Sue Smith is looking to win the race for the second time. Has a win at Catterick in the bag this season, hold some interest, but will need to do much more than runner-up of four entries at Uttoxeter last time.
Pleasant Company - Willie Mullins - 33/1
Previous participants of the race can often be considered, 9th last season, then returned in December finishing well down the field to Anibale Fly at Leopardstown, and then pulling up in the Thyestes at Gowran. Any improvement on 9th would be an achievement. Will stay.
Regal Encore - Anthony Honeyball - 33/1
Can run a big race on a going day but is inconsistent on course completion which has to be a worry, although he did stand up and finish 8th last year. A recent win at Ascot in the listed Swinley Chase was a good example of a going day but can he put wins back to back?
The Dutchman - Colin Tizzard - 33/1
Has the requisite trend hurdle outing in the bag this season at Cheltenham before following that with a win in a Grade 2 Handicap Chase at Haydock. Last seen in February in the national trial at Haydock again where leading up fine but finding things a bit tough pulling up at the 11th fence. That may be ignored and one of the livelier outsiders.
Vieux Lion Rouge - David Pipe 33/1
Seen completing the last four renewals of the Grand National, Caroline Tisdale's stamina specialist is still only 9 years old. [perfect age right?] - Usually seen in a single prep run before appearing in the big one, this season was no different with a 4th place finish of 6 at Ascot in the Swinley in the race won by Regal Encore. Very possible that form will be turned round.
Shantou Flyer - Richard Hobson -

33/1
Runner up in the Ultima at the Cheltenham Festival behind Coo Star Sivola, a result that mirrored three previous outings when finding one too good. Each of those four runs have come at Chelteham 3 times, and Kelso once. Pulled up 4 out in the Grand National last season
Milansbar - Neil King -

40/1
May give Bryony frost a chance of Grand National Glory after such a wonderful Cheltenham festival for our lady jockeys. A win over 3m5f at Warwick is a plus in the form book as are two places in the Eider and the Midlands National, showcasing his stamina for the trip
Raz de Maree - Gavin Cromwell -

40/1
Has experience of this race having finished 8th in 2014, unseated last year and returns hoping to make it third time lucky. Runner-up in the Cork Grand National, he then found the same position in a freshening hurdle outing at Southwell before landing the Coral Welsh Grand National at Chepstow in heavy ground. Won't mind the juice if it comes.
Alpha Des Obeaux - M F Morris -

40/1
Not seen since February when finishing 6th in the Irish Gold Cup at Leopardstown - unable to make the places to in two prior runs at Gowran and Leopardstown too. Owner-Trainer combination won this race with Rule The World 2 years ago
Baie Des Iles - Ross O'Sullivan -

40/1
Seem to equip himself well at the Grand National trial in February at Punchestown, finishing third behind Folsom Blue. has won over three and a half miles in soft ground at the same course when landing that race 12 months before. A sure-footed jumper who should get round.
Bless the Wings - Gordon Elliot -

50/1
Needs a little luck to get in the race and probably the same to get round given that he has completed a course just once in the last five outings. That said, when he did keep his feet he beat 8 rivals around the cross country course at Cheltenham back in December, although feel on the same course at the festival. Pulled up in the Irish Grand National on 2nd April
Buywise - Evan Williams -

50/1
Will not be leading throughout, that's for certain, this traditional lobber usually makes a [too] late run for the line. Although the long run in for this race may suit him very well. Has picked up a win in a veterans race at Sandown in January but well heald and down the field at the same course since. That win was his first since 2015 and it's hard to consider his chance with confidence.
Carlingford Lough - John Kiely -

50/1
Has a pretty fair mark if lining up for the race but at 12 years of age, does not have time on his side. certainly, a very high-class chaser in his time picking up a string of top-class races. last seen pulling up at the Christmas Chase in Ireland
Chase The Spud - Fergal O'Brien -

50/1
Pulled up in both the Eider at Newcastle and the Welsh Grand National when last seen, we do have a stamina-laden animal here, who won his previous two outings including the MidlandGrandnd national in soft going.
Final Nudge - David Dennis -

50/1



Finished 9th in the Kim Muir when last seen at the Cheltenham festival, he has stamina abound but does need juice in the ground. Has a couple of wins around the 3 mile mark but nothing beyond it, and looks rightly priced at this stage
Saint Are - Tom George -

50/1
With age comes experience and few if any would have jumped these fences as many times at Saint Are, who has raced 4 times in the National and yet more times in the Becher Chase. a 3rd place finish in the race last year didn't better the runner-up spot behind Many Clouds in 2015, he has been seen twice at Cheltenham since, pulling up on both occasions, most latterly in the cross country at the festival.
Valseur Lido - Henry De Bromhead -

50/1
No doubt about the former class of Henry de Bromhead's runner, but whether the Grand National is the race to provide his first win since November 2016 is another question. Seen on 5 occasions since that date including when beaten favourite in a field of 5 at Clonmel latest
Warriors Tale - Paul Nicholls -

50/1.
Trevor Hemmins is no stranger to lifting the Grand National trophy and would break a record if doing so for a fourth time. has not been since runner-up to Wakanda at Doncaster in January but that was a good show. Does have winning form over a 3 mile trip albeit a couple of years ago in a low-class small field event. Would have to put in a personal best to figure
Childrens List - Wille Mullins -

66/1
Trainer hasn't the greatest record in the race since winning it way back with Hedgehunter. Running in the Ricci colours. very lightly race, he has been seen only twice since winning a beginners chase at Punchestown in December 2016. A runner-up spot at Limerick and then pulling up in a trial at Punchestown in February
Delusionofgrandeur - Sue Smith -

66/1
If this race was being run at Catterick where he seems unbeatable he wouldn't be this price. Has plenty of winning form over staying trip both under rules and in points previously. Last seen finishing 3rd of 10 at Haydock at the end of last month and trained by former winning trainer.
Double Ross - Nigel Twiston-Davies -

66/1
Huge negative in having no winning form over three miles but managed a 4th place finish at the Cheltenham Festival in the Kim Muir behind Missed Approach. Pulled up before 5 out in this race 2 years ago, will be on a lower mark this time. Is the last runner to be guaranteed a spot in the race at the 5 days stage.
Houblon Des Obeaux - Venetia Williams - 66/1
Been busy in 2018 with three outings already, completing in third at Ascot and Hereford, but pulling up in the Eider Chase. Seems to need to b running regularly to keep on top of his game and will be looking to imrove on a 10th place finish last season in this race
Lord Windermere - Jim Culloty - 66/1
Now 12 years old, he was last seen falling in the trial at Aintree which was his first appearance since a 7th place finish in the race last season. The former Cheltenham Gold cup winner has another bash at the big one
Pendra - Charlie Longsdon - 66/1
rarely seen these days Pendra has been seen the last twice running in the Fulke Walwyn, Kim Muir chase at Cheltenham. Down the field in 15th this season, didn't match his runner-up spot in the race in 2017. Prior to that was finishing 13th in this race in 2016
Perfect Candidate - Fergal O'Brien - 66/1
Pulled up before 4 out in the race last year, he does have a victory over VICENTE in the book since at Cheltenham in November over three and a half miles. A couple of outings since at Sandown and back at Cheltenham in January have seen him well held
Virgilio - Dan Skelton - 66/1
Has a win at Aintree over the Mildmay course from May 2017, returned to the same venue to finish 8th of 12 last November, and since pulled up at Doncaster on good ground in December. A bit on his plate to Give Dan Skelton his first win in this race
Beeves - Jennie Candlish - 100/1 NON RUNNER
7th in the cross country at the Cheltenham festival, Beeves, only other outing this season was in a hurdle event at Mussleburgh, since winning a handicap Chase at Perth in June to complete a hat trick of wins. mark looks to have been protected for this.
Maggio - Patrick Griffin - 100/1
Won at Aintree in the Mildmay in 2016 in a handicap chase, and that was his last victory from 7 subsequent outings where the last twice he has beaten only one home in two outings, hard to fancy
Tenor Nivernais - Venetia Williams - 100/1
Last of 6 at Ascot in the Swindley Chase after Pulling up behind Wakanda at Doncaster in January. The previous outing was in this race last year where he completed but finished in 17th position. Reliable jumper with stamina, but maybe place claims the very best connections can hope for
Grand National 2018 Betting Tips
We have our final shortlist of four. How amazing would it be if they were to fill the first four places - Not to mention lucrative!!!
Best Bookmaker Offers for the Grand National
These will be added as they are released by the bookmakers, but we hope to have some very special offers for you.