How I used BetVictor betfinder to win €63 to a €1 stake on Tuesday
I thought I would share a little feature I found on the BetVictor bookmaker site today, which pretty much dropped a 63/1 horse racing double in my lap.
I'll start by saying €1 horse racing double is more than on the conservative side of betting for me, but I was simply using the feature to write a review on it for the review section of the website.
I wont go through the entire details of how to use the feature here, you can
read all about it
, and what filters I used to narrow down the 477 runners on Tuesday to just 2 on the
BetVictor user review page
. The link will take you to the exact section to save you searching the entire review
Anyway, I used some of the filters, that knock out runners, I chose, 5 star rated runners, who were mid price, and had one at the distance before and it eliminated all but 2 runners on the day. Both were running at Newcastle racecourse, and as the filters determine both were nice prices - 15/2 and 6/1 in the end
How does BetVictor
Betfinder
Work?
This is a screenshot of the basic betfinder tool. The highlighted sections are the filters that I applied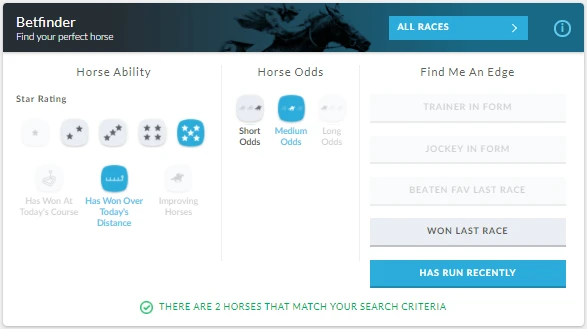 Once these filters were applied it spat out these two picks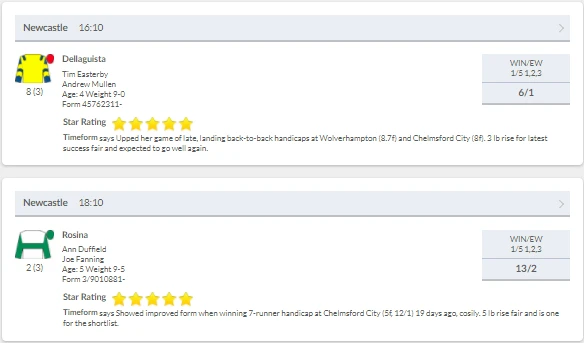 As mentioned, both were winners and I collected handsomely for just €1
A little narked as that is a small stake in my normal racing betting but more than happy that things paid off given it was just a test

Wednesday BetVictor
Betfinder
Filters
I will certainly be taking another look at it and these are just the 2 that come up for Wednesday
Betvictor have always been a favourite
for me for football betting, today, with this little feature, they have jumped up in my estimation for horse racing too!