​3 Must Have Bookmakers for Betting on the World Cup 2018
3 Must Have Bookmakers for Betting on the World Cup 2018
What are the World Cup dates in Russia?

The Russia 2018 World Cup will be the 21st FIFA World Cup in history. It will be held from 14 June to 15 July.

Russia will be the hosting country and the World Cup Final will take place on Sunday, the 15th of July, at the Luzhniki Stadium in Moscow. The stadium has a capacity of 81.000 seats.
There will be 32 participating teams. Russia is the only team which did not have to play qualifiers in order to have the right to play in the 2018 World Cup.
The 32 teams are divided into 8 groups of four, as follows:
FIFA WORLD CUP 2018 Groups
Group A: Russia, Saudi Arabia, Uruguay, and Egypt
Group B: Portugal, Spain, Morocco, and Iran
Group C: France, Australia, Peru, and Denmark
Group D: Argentina, Iceland, Croatia, and Nigeria
Group E: Brazil, Switzerland, Costa Rica, and Serbia
Group F: Germany, Sweden, Mexico, and South Korea
Group G: Belgium, England, Panama, and Tunisia
Group H: Poland, Colombia, Senegal, and Japan
When is the first game of the World Cup played?
The World Cup Opener, Russia v Saudi Arabia, will kick off Thursday 14 June at 4 PM GMT. The match will be played at the Luzhniki Stadium in the capital city.

Bettors have already started making their plans for the 2018 World Cup. Have you made any betting plans for this summer?

It would certainly not be a bad idea for you to already start looking for value bets. The match schedule is set out and you have enough time in order to study the teams, the players involved and then make decisions according to the information that you learned.

But what if you find great bets and you notice your bookmakers are offering you odds that are too short?

What if you don't have an online bookie account yet?

For either of the questions, OLBG has the answer.

Simply go visit our bookie page and see which ones would you prefer out of that list. When you made your mind, simply click on the bookie you want to open an account at and register!
Thus, you will sign up to receive welcome bonuses and free bets

Let us introduce you the 3 'must have bookmakers' for betting on the Russia 2018 FIFA World Cup.

3 must have bookies for the 2018 FIFA World Cup Betting




Betfair has always placed an emphasis on football betting, consequently is one of the places to bet at during the World Cup.
As I am writing this article, the Betfair offer already shows tens of betting markets available for the World Cup; pleasantly surprising, considering there are more than 2 months to go prior to the World Cup start.
Why is Betfair a must have bookie for the Russia 2018 FIFA World Cup? You can check with an odds comparison site or any other experienced bettor that you know and you'll find out that Betfair is one of the best bookmakers worldwide when it comes to the size of the odds.
Try betting at Betfair You can deposit to your account through various online payment services. The following ones can be used: credit and debit cards, Paypal, Neteller, Skrill, Paysafecard etc. Exchange Betting is a solid alternative to Sportsbook betting. Betfair differentiates itself from the other bookies offering their clients this possibility of both backing and laying bets. That is being the punter or also being the bookmaker

Betfair Exchange is excellent to use when you fancy an underdog and want to make the most out of it.

Example: You bet on Russia to win a match, and they score first, you are then able to lay them at a much shorter price than you bet them, and thus either remove your stake by laying it to another punter who wants to back Russia now they are in the lead, or you can "lay"; for a bit more than your stake to ensure a profit, whatever the outcome of the match. Check out our Lay Betting Guide in the Betting Articles section to understand lay betting better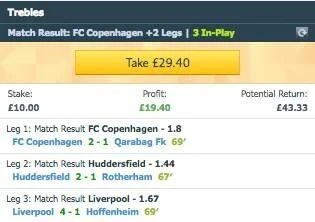 Cash Out can be extremely useful for LIVE Betting, for which Betfair also possesses a well-working platform.

Click here for a full Betfair Cash out Guide FIFA World Cup betting always takes place in the summer. Chances are you'll not be going to be staying at home for the entirety of it; therefore you have to make sure you'll have access to betting even on the go.

The Betfair Mobile App is thus a precious help for any bettor interested in having tips placed no matter the place he finds himself in.

So, if on the road during the summer, download the app and get used to it, so that you'll take full advantage of it during the World Cup.

The app is available both for Android and iOS. Furthermore, there are 2 different Betfair Mobile Apps: Mobile Sportsbook App and Mobile Exchange App.

In addition to Betfair's app, we recommend that you get the OLBG Sports Betting App, which offers you free tips on a daily basis and allows you to place your bets straight from the app.
Download the OLBG Mobile App now! Clicking on an OLBG link, like this one, offers you a free bet. Make sure you do not miss this chance!

Moreover, Betfair will most certainly have different betting promotions during the 2018 World Cup. OLBG member, HooseRice left a review of Betfair saying:
"One of the easiest sites to navigate with a very mobile-friendly user experience also. Consistently offer competitive prices with offers on racing & football. You can get 50% acca bonus on your first acca each week which is worth checking out. Watch live streams on all UK & Irish racing with a min 50 cent stake."

OPEN AN ACCOUNT AT BETFAIR AND GET READY FOR THE WORLD CUP!





Bet365 is one of the most famous online bookmakers worldwide and there is little chance you haven't heard of them before.

They have a long history of success in the betting world. Let's see why bet365 is also a must-have bookie for the FIFA World Cup 2018.

Bet365 was founded in 2000 by English business woman Denis Coates and has since grown to be one of the leading bookmaker brands in the world.




Why is Bet365 a must have bookmaker for 2018 FIFA World Cup Betting? Bet365 is a well-designed app for mobile, which allows bettors to deposit and withdraw money directly, without using the desktop version of the site.

It is available for Android and iOS and you have access to the LIVE streaming platform. Obviously, soccer is one of the covered sports by Bet365 when it comes to match streaming.

Having a good mobile app is a must during the World Cup as it allows you to be on the go and still be up to date with the competition.

The app is also a good source of information, data and football stats, which can always be used prior to placing a tip. Bet365 is no exception to the modern world of bookmakers. The Cash Out option is available to all clients and can be effectively used in play, in crucial moments of certain sporting events. Bet365 is known to be one of the best online bookmakers when it comes to LIVE streaming.

The only step you have to take in order to fully enjoy the free content bet365 provides you is to make a deposit.

Having a funded account is a must for any bettor that wants to have access to the LIVE Streaming platform, which covers thousands of sporting events on a yearly basis. OLBG member, bozicso expressed his opinion on Bet365:
"I used a lot of sites and I spent the longest bet on bet365. There is simply no betting bookie with a better live offer. The offer is diverse, not only in sports, but in leagues. For example, there is no betting offer that offers a live bet for all the badminton tournaments, and the same can be said for other less popular sports such as squash, beach volleyball, darts, bowling. Also a very good thing is a lot of live stream for all sports. Something that also makes this bookie a lot of different bonuses for regular players. Almost each month I got 15 euros cash bonus, and a lot football free bet options for top league. The only complaint I find is that they have to follow the other bookies when it comes to the deposit option and the withdrawal of money. For example, the EcoPayz is present in almost all major bookmakers except here. I think bet365 should pay attention to such things if they want to be number one on the market. EcoPayz is a serious competition to Neteller and Skrill and deserves its place in bet365 family."

Another OLBG member, PROO said: "
When we talk about bookmakers, there are three basic topics: 1. Trust & consistency 2. Odds value 3. Betting variety coverage. By using Bet365 for many years up to now I had never even a small problem with my interactive banking. Easy depositing and immediate withdrawals. I don't need to talk about their odds value since an easy research between the odds comparison pages shows that Bet365 are honest without trying to exploit the players. As far as the variety of the sports and the bet types, I can't find a better place. But there are some little things that they made me bind with them. Not only the free bonus bets they offer me from time to time, not even the early payout in specific kind of bets, not as well the money back given in some bets. When you have a question or a problem they are always there to support with many ways and their response even by mail is very quick. Extra points: their live-in-play and their statistics section. I could say more but it may look suspicious. Everybody is free to choose and my choice is Bet365."




Williamhill is one of the oldest bookmakers out there, having been founded in 1934 by William Hill.

Why is William Hill a must have bookmaker for the Russia 2018 FIFA World Cup? Users with iOS gadgets can enjoy the fact that William Hill has a really nice set mobile app for Apple product owners.

Also, the mobile version of their website is well-structured and easy to follow from mobile devices.


Betting market coverage is a strong point for William Hill, especially when referring to football betting. In terms of number of football betting markets, they have few rivals Having the chance to see all the relevant and most recent football stats can be incredibly helpful for you.

The football stats service is supported by Opta Sports Data.
Members of OLBG have their say
Here is what Insideman, member of OLBG thinks about William Hill:
"I've had an account with Hills for around 5 years now. They have a good customer service but it can sometimes take a while to get through to them as you can guess there are a lot of people trying to contact them. I think Hills are one of the bookmakers that would come to mind if you were to name the top three biggest bookmakers. The pros about this company are decent odds, good customer service and an easy to navigate website. I do think there are better bookmakers to bet with though and that is just my opinion Bet365, Ladbrokes to name a few."

OLBG member, cjfinno said:
"Quality site right up there with Bet365. Loads of matches and markets. Doesn't have asian handicaps though which is a bit annoying. Great odds and no problems with withdrawals. Highly recommended."


This summer will be all about the Betting on the FIFA World Cup in Russia. And trust us, you will not want to waste precious summer time. You'd better start looking for World Cup bets already, and after finding them you could easily open an account at the bookie you prefer.
Be prepared with good bookie offers prior to the start of the competition.
The World Cup starts Thursday the 14th of June and until then you have enough time to check OLBG's offer in terms of bookie accounts
All 3 bookies mentioned have great mobile apps, which are a must when considering betting on the World Cup. Always be prepared to bet on the go and install the betting apps that you know you'll find useful.
Bear in mind that The OLBG Mobile app will be supporting you with valuable information, betting previews and free tips during the World Cup. In order to fully enjoy our app, download and already start using it!
Do yourself a favour and choose at least one of the following 3 bookies, so that you'll get the best betting experience on the Russia 2018 FIFA World Cup.