Football Betting Strategy - [League of Ireland 2018]
Football Betting Strategy - [League of Ireland 2018]
Backing home wins gets better and better as the season goes on and provides anything up to 70% Return on Investment in this
soccer betting strategy
. It could be the best way to
bet on soccer
in 2018

Let's give you the formula right from the start for one of the simplest football betting systems I have come across and a low-risk betting strategy that can be used either for singles, or as I will show later, as a football accumulator system.
3 Simple tips for this Football Betting System
You can choose to note them down and use them, or, you can read on and find out how this fixed odds football system came about, and just how much profit has been achieved in the last 5 years using it. As far as betting strategies go, this is one of the quickest and easiest to employ.
League of Ireland Division 1
June to October only
Home win when priced between 1.62 and 3.55
A Gambling System that never Loses?
Before I go any further, if you are searching for a gambling system that never loses, then please be aware that whilst this has shown profit consistently over 5 years of matches, there will be losing bets throughout. A 100% strike rate is virtually impossible, and if the betting system strike rate is sufficient in tandem with the odds range we are using, we will be looking at the best way to bet on soccer, and what should be profit at the end of the season.
How to use this system for the League of Ireland 2018
Something I have discovered with research of the last 5 seasons of
League of Ireland
football betting strategies
, is that the longer the season goes on the more frequent home wins become. I will come onto the figures shortly and we will look at if there are any angles we can use to our betting benefit for the coming 2018 League of Ireland season.
How backing Home Wins can pay off in 2018
For the last 5 seasons, there have been a total of 1550 games, in which 695 have resulted in a home win. A percentage of 44.80% - It's a pretty average return of home wins and nothing out of the ordinary for virtually any professional football league in Europe.

Looking at the two divisions in isolation we see a different picture, a greater number of home wins occurring in the second tier

This is generally reflected in each of the five seasons analysed, with Division 1 showing a higher percentage of Home wins than the Premier League each year, except for 2014, when home wins in Division 1 was just 39%. An anomaly of the 5 years given the lowest percentage in any other season came in 2017 with 46%
A Blind Home betting strategy wouldn't have worked
Anyway, as a football betting strategy, backing home wins blind in Ireland would not have provided a profitable return, unless we split the divisions down

Figures represent backing every home win for £1

So, it could be said that we can discount the Premier League and concentrate on Division 1 only – Although that may be the outcome at the end of this analysis, I do have some rather interesting information to come regarding the season as it progresses.

Looking at both divisions once again, and then at each month as the season progresses from February through to December we see the following trend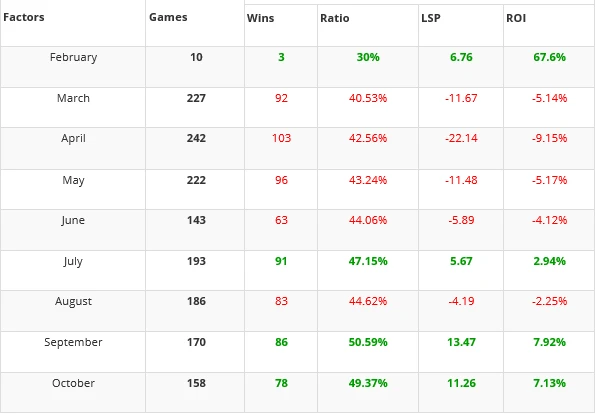 If we plot this into a chart, it shows the consistent increase in the number of home wins each month as the season gets older. Could we find a betting strategy from this information?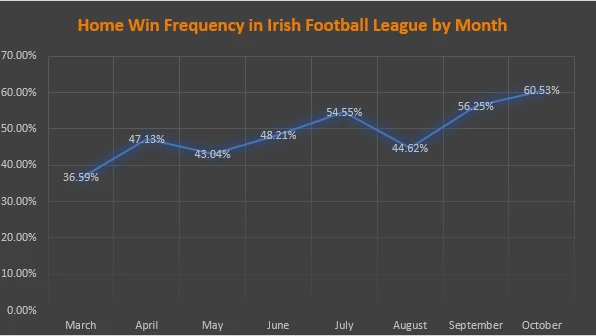 Can we use this information for a football betting strategy and is it a reliable trend year on year?
Yes, is the answer to the latter.
How we will use it, we will come to later, but here are the numbers and an illustration that shows clearly the trend has been present for each of the last five seasons. There are some anomalies in places, but the general average is solid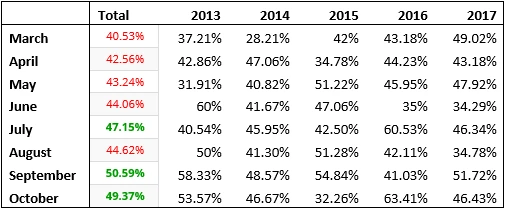 League of Ireland Home win percentages by month and by year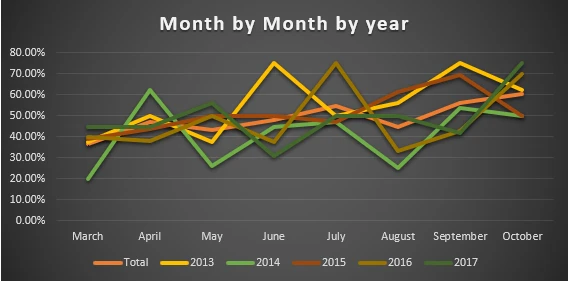 What is interesting is that there is a greater return of home wins month on month as the season progresses. Now, I shan't be delving into the science of 'why', indeed, I am sure there are reasons, but I am more interested in how we can use this to a betting benefit.
We have already seen that backing the home wins blind would not have provided a profit over the course of the year with two exceptions

A 3.5% Return on investment over 5 years, is a figure that is not going to excite many people, so perhaps another visit to Division one only is in order where 7% would have been realised over the same period

I want to plot this division individually per month, and each year as above to check that the same consistency is there.

So here they are. This time I have highlighted in green the profitable months backing home wins to level stakes and in red the unprofitable months. Possibly one of the most simple football betting systems I've come across to date, if not the most profitable betting system.

A quick sum is that 25 of the 40 months played, or 62.5% finished in profit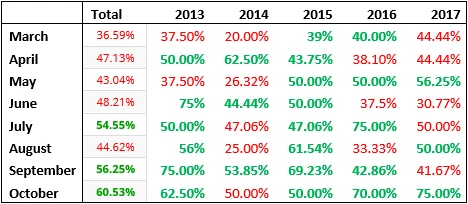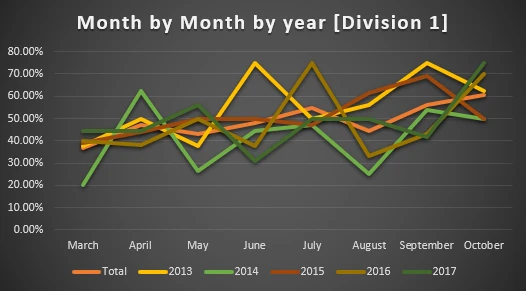 So there are all the figures, we know backing only
home wins in Division 1
would have returned us just over 7% over 5 years, but given that we know 15 of the 40 months were losing months, we can also note that 8 of those losing months all came in the March-May period.
Can we improve this betting strategy?
How do the figures improve if we look solely at June to October?

"Considerably!", is the answer

Whilst the overall profit only increases from +39.60 to +40.32, they do so by making only 311 bets instead of the original 563 – thus increasing the return on investment from 7% to 13%, far more palatable
We do, however, have a "but"

The "but" is that 31.38 points of that overall profit came in 2013, thus just a further 9 points profit in the last 4 years, that's 9 points profit over 247 events and bringing the ROI down to 3% again.

Next, I take a look at the odds for the home wins in the sample period and matches, and add in a filter to consider only games that for the home teams odds of between 1.62 – 3.55

This again does make a small improvement to the Level Stakes profit over the period of now +50.27, and once again, as this has come from a much smaller sample of games, 143 to be precise, has increases the overall
return on investment
to a now impressive 35%, a figure few
football betting systems
can boast

How this betting strategy has made profit year on year
And now looking at each season, we can see this set of conditions would have provided profit for each of the five seasons, ranging from +1.59 for 7% ROI in 2014 to +25.66 and 69% ROI in 2013

So here is our Irish football betting approach for 2018
Step 1 League of Ireland Division 1
Step 2 June to October only
Step 3 Home win when priced between 1.62 and 3.55

There is more information to come with the League of Ireland Premier League in this regard, as since we used the price band we can find another angle to add to the mix.

Researching football betting systems can be a long drawn out process, but it is worth taking notes at every stage and looking deeply into the data available. Finding something as simple as this to create a football betting strategy that has worked with consistency over a period, really can be a gold mine.
Can we build a Winning Football Accumulator System with this?
In terms of football accumulators, most punters like them to take place in a single day, so I have gone over the 143 games to see how many games occurred on the same day, and what would have happened if we had placed a €10 accumulator on all qualifiers on each of those days.

This bet would have qualified on 33 occasions and won 9 times at odds of between 3.8 and 14.91 and a profit of 40.31pts would have been achieved to 1 point stakes.

So all in all, we can use the same selections criteria to run a fixed-odds betting system playing both
Combined the systems would have returned a total of
90 winning bets over the past 5 years from 176 wagers.
If playing to €10 Stakes, the total profit would have been
€905.80 or a return on investment of 51.46%